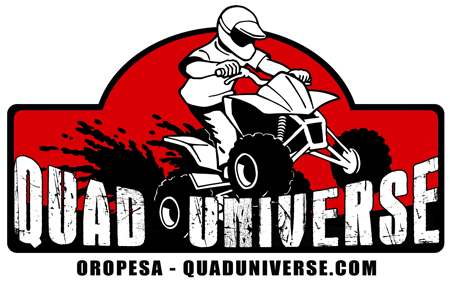 Welcome to the adventure!
We provide you the best quad biking tours in Valencia and Castellon area.
Guided quad tours for every riding experience and families. Circuits from 1 hour to 3 hours. QUAD UNIVERSE, RENTAL, ATV GUIDED TOURS IN OROPESA DEL MAR, BENICASSIM, CASTELLÓN
We are the only quad specialists. Trust the experts ;)
The best outdoor activities in the Oropesa del Mar and Castellón regions. It's not for us to say, but thousands of people have visited us over the last eight years (and repeatedly).
Nature-loving, well-organized, fun and safe activities: you are in the right place 😉
Enjoy the unique experience of driving the latest KYMCO MXU 300 Quad (ATV), a machine that stands out for its ease of use, personality and fun. Discover our quad biking tours in REAL nature (not in an enclosed artificial park)!
Enjoy summer vacations, weekends and adventures in nature! Open all year round by appointment. The weather in Oropesa del mar allows it !
We organize ATV guided tours (including driving lessons) so that you can enjoy an unforgettable activity. Explore a beautiful area known for its coastal valleys and mountains. Pass through palm groves (near Palm Tree Desert), orange trees, almond blossoms, olive trees, and other local wonders. A unique and unforgettable activity. Only from true quad specialists in the Valencian community.
We provide tours for stag and hen events, and team building groups. We also offer gift vouchers for birthdays and other occasions. The perfect gift for your loved one or your friends ☺
WE ARE
DIFFERENTS BY
NATURE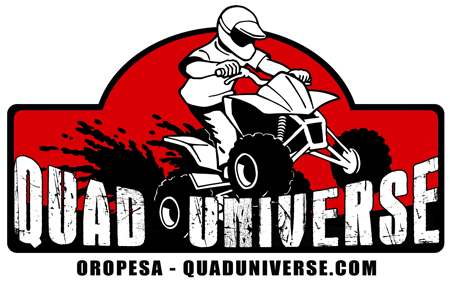 Since 2015 we have been offering you different quality activities. We have selected adapted ATVs and great circuits so that you can enjoy unforgettable moments in complete safety.
  We are only dedicated to ATVs, we are experts in it.
  Tours for all levels, beginners and families
  Last generation 300cc ATV quads
  Street legal quads for two people
  Only small groups of up to 5 quads
  Tours from 1 hour to 3 hours
  We are certified S for Sustainability
  We compensate our CO2 emissions
Whether you are familiar with Orpesa or visiting the area for the first time, we guarantee that with our guidance, you will discover aspects that, until today, have remained hidden from you.
You can choose at your discretion whether you want to enjoy the coast or the mountains of Castellón, savoring breathtaking panoramic views and engaging in an activity that will give you intense emotions. We are nature lovers and, therefore, environmentally conscious and respectful.
Currently, we propose 2 guided tours. The first of it "Mirador y bosque" is a 1 hour tour (15km), for those who want to go for a ATV ride in a memorable first experience or as a family activity.
Our new tour "El cuartico" is a Crossland circuit of 60km and 80% off-road bringing you to the bests spots of the area with a lot of cool things to discover (fighting bulls farm, solar farm, a Calvary etc.)

OROPESA DEL MAR,
MUCH MORE THAN BEACHES
Beaches, sun, sand and sea are great here, but we bet on a different experience. A fun ATV circuits in Oropesa del Mar, through mountains, coasts, forests, Marina d'Or, Cabanes, Benicassim, Castellon and even provinces (Alcossebre, Peñiscola, Vall d'Uixó, Torreblanca, etc.). We are in the perfect spot to practice Sport Tourism in Castellón, at 55 minutes from Valencia and 25 minutes from Castellón.
Since 2017, certified by the Spanish Ministry of Tourism for quality service. We are the first ATV touring structure to be awarded the Commitment to Tourism Quality seal across the Valencian coast. This official award guarantees a high quality, innovative experience.
Since 2023 we are the first active tourism company in the province of Castellón to have an S Certification for Sustainability.
We are also supported by the Valencia Tourist Authority, which furthers our commitment to innovation and helps us deliver quality tourism.
We also proudly have a Certificate of Excellence 2017,2018,2019, 2020, 2021, 2022 and 23 by TripAdvisor !
We organise guided quad biking tours in Oropesa del Mar (just a few minutes from Alcossebre, Peñiscola, Benicassim, Castellón, Benicarlo, Valencia, Tarragona).
Our guests' reviews speak for themselves!
Tripadvisor
Google Reviews
Tripadvisor
The best quad bike experience…. And I've done a fair few in different parts of the world! You must do this quad biking adventure…. It's amazing / awesome / brilliant / outstanding pick anyone description… you won't be disappointed. Fran is the perfect host to guide you through how to ride the quads then take you on some outstanding tracks up and around the mountains of Oropesa. The views are amazing and the knowledge Fran has about the area, wildlife and history is superb. He will guide you through literally the best path to take up and down some great tracks. We didn't see another person for hours and you're really into the wild of Spain. So glad I opted for the 3 hour experience…. I didn't want it to end! Thank you Fran….. keep doing what you're doing. Cheers Tom
Experiencia increíble Fran es una persona increíble, nos explico todo perfecto y la experiencia inmejorable. Hicimos la vuelta de 1 hora y fue una pasada. Repetiremos para hacer la de 3 horas
Una experiencia increíble Una experiencia increíble. Llevamos 16 años veraneando en Oropesa y nunca habíamos visto esas rutas, caminos ni esas increíbles vistas que Fran nos ha enseñado. Además son todos muy agradables y te van enseñando que hacer en cada situación Muy contentos con la ruta. Repetiremos!
Si vas a Oropesa ,tienes que ir.Unas vistas increíbles Una experiencia muy buena y los dueños muy amables.La primera vez que hemos montado en un Quad,a mi mujer le daba miedo,ahora quiere repetir
OROPESA diferente a motor. Merece la pena cada minuto siguiendo la rueda de Fran… Las máquinas cuidadas, la ruta perfecta para disfrutar con un punto de aventura pero con riesgo controlado, el paisaje sorprendente, y lo mejor su actitud tranquila, paciente y dedicada. Por poco más de 0,75 eur/ minuto un precio que ahora me parece muy ajustado. Es fácil disfrutar con quien disfruta haciendo lo que hace. Enhorabuena,
Top, incroyable !!!!! Nous recommandons à 200% !!!! Fran est très professionnel, accueillant, super sympa, et pédagogue. Toujours le sourire et l'on voit qu'il prend plaisir et est passionné par ce qu'il fait ! Il partage ces connaissances. N'hésitez pas, foncez!
Randonnée de 3h Moniteur top 👌👍, ultra professionnel et sécurisant. Première fois que je faisais du quad le moniteur prend bien le temps de tout expliquer pour que la ballade ce passe bien 👍. Expérience magnifique 😍 Rdv dans un ans pour recommencer 😁
Rose-mai Zahra G
06/08/2023
Adrénaline et moment convivial garantie ! Superbe randonnée en quad , dans un cadre idyllique mer/forêt ! Expérience à faire et à refaire ! Equipe au top 👌👍 merci au guide pour sa patience 😜 et son professionnalisme ! Mon mari , mes enfants et moi en avons pris pleins les yeux ! Je recommande à 1000%!!! Si vous êtes de passage à oropesa ou même dans les alentours aller y faire un tour ça vaut vraiment le détour ! Bonne continuation et à l'année prochaine peu être .
Expérience folle Incroyable expérience, guide super sympa. Une vue magnifique tout au long du parcours. Un prix abordable, je recommande!!
Vicent- Cuartico
31/07/2023
Ruta fantástica. Elegimos la ruta de 3 horas El Cuartico, fue fantástica por la gran variedad de tipos de paisajes. También fue interesante la explicación de Fran sobre un poco de historia del pueblito El Cuartico, su calvario, ermita, habitantes….. La atención prestada por Fran sobre el grupo fue de 100.Repetimos seguro.
Google Reviews
Our commitment to excellence